INSTALLED BUILDING PRODUCTS
what we do
We get the
job done.
From insulation to rain gutters to fireplaces, we install the products that provide energy savings and comfort for a home. We deliver value to every job site through hard work, a true care for quality and craft, and a dedicated knowledge of industry best practices. Our commitment to quality never wavers, but we know that no two jobs are the same and are ready to work with builders to provide a superior final product.
So, what do we do?
We provide energy solutions.
Of the many investments involved with building a new home, properly insulating is one of the best ways for families to save money and comfortably enjoy their home.
Not only do we want to help deliver on your customers' expectations of quality and efficiency, but our teams also bring peace of mind to the work site with their deep expertise of the ever-changing industry codes, best practices and recommended products.
Residential New Construction Insulation
Home Insulation
Fiberglass
Spray Foam
Visit our locations page to find an insulation branch to work with.
We improve curb appeal.
There is so much more to a garage door than what meets the eye, and our experience has taught us that there is no one-size-fits-all approach to repairing or installing a new door – figuratively or literally.
While homeowners might be more concerned with aesthetic appeal, commercial customers are more likely to value high-speed, rolling steel or fire protection. Our garage door installation branches rely on experience to meet unique customer needs.
Efficient gutters are key to directing water away from homes and preventing damage, which is why our gutter installers consider take a custom approach for each job.
Commercial & Residential Garage Door Services
Gutters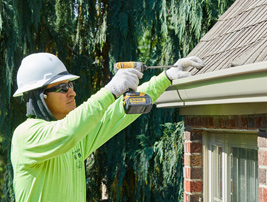 Are you looking for a garage door or gutter installation partner?
Visit our locations page.
We focus on the details.
From bypass doors to fully custom frameless styles, you can trust that our shower door installers are experienced in providing solutions that fit a variety of customer lifestyles and abilities.
We extend that level of care to every detail in the bathroom – no matter how small, because correctly-installed, high-quality finishing touches turn a good bathroom into a beautiful bathroom. For this reason, our branches work with industry leading suppliers to help bring the best pieces to every job.
Shower Doors
Bathroom Hardware
Find a local IBP shower door or bathroom hardware installer to work with at our locations page.
We ensure in-home comfort.
Homeowners turn to builders to bring their visions to life, and we are here to help builders with the final touches.
To keep a home or office as picture-perfect as move-in day, a custom shelving and storage solution is essential to help maximize space and reduce clutter in the long run.
The perfect set of blinds can reduce energy waste while also ensuring privacy. We offer options that are UV-protecting, anti-static controlled, custom fitted for improved closures, and easy to clean.
And a seamlessly-installed fireplace can elevate a home like few other things can. We install quality gas fireplaces and mantels from trusted manufacturers.
Storage & Shelving
Blinds
Gas Fireplaces
To find a local partner with experience with interior projects, see our locations page.
We deliver on large commerical projects.
We know that commercial building projects involve seamless collaboration between architects, contractors and owners. As professional installers and service providers, we're here to complement your team with our expertise of a wide range of foundational and safety-focused services.
From managing thermal stress with expansion joints, to consultation and design support for fire and water proofing, and installation for variety of insulation types, we provide the support and execution that your commercial project needs every step of the way.
We also have years of experience with all manners of building protection and restoration, and can work with you to ensure the long-term value and safety of your facility.
Expansion Joints
Waterproofing
Spray Fireproofing
Spray Foam Insulation
Insulation
Restoration
Firestop
To find a local IBP team to help with your commercial project, visit our locations page.